In April 2006, I took a roll of Ilford FP4+ and HP5+ and drove through Mt. Airy photographing whatever I could find. I did expressly so that I could send the film off to dr5-chrome. If you shoot film and haven't used dr5, you are in for a treat. It was started by a professional photographer named David Wood who was looking for a way to turn Black & White film into slides. As David calls them, "Black & White-chromes". After working for seven years he perfected the process and started making it available to other photographers.
I was generally happy with the rolls I shot last year. Most of the problems I had were choosing bad subjects and improper execution (bad photography). But I did have this one of an old barn with the sign "Mail Pouch Tobacco" painted on the side, that turned out well. The tonal range and the sharpness from the dr5 process is nothing short of amazing.  Conventional negative processing of these same films is much flatter and a lot less sharp.  All the images shown were not in anyway digitally manipulated (Photoshopped).  It is what it is and it is amazing.
Leica MP
Leica 35mm Summicron ASPH
Ilford FP4+ (dr5 dev1)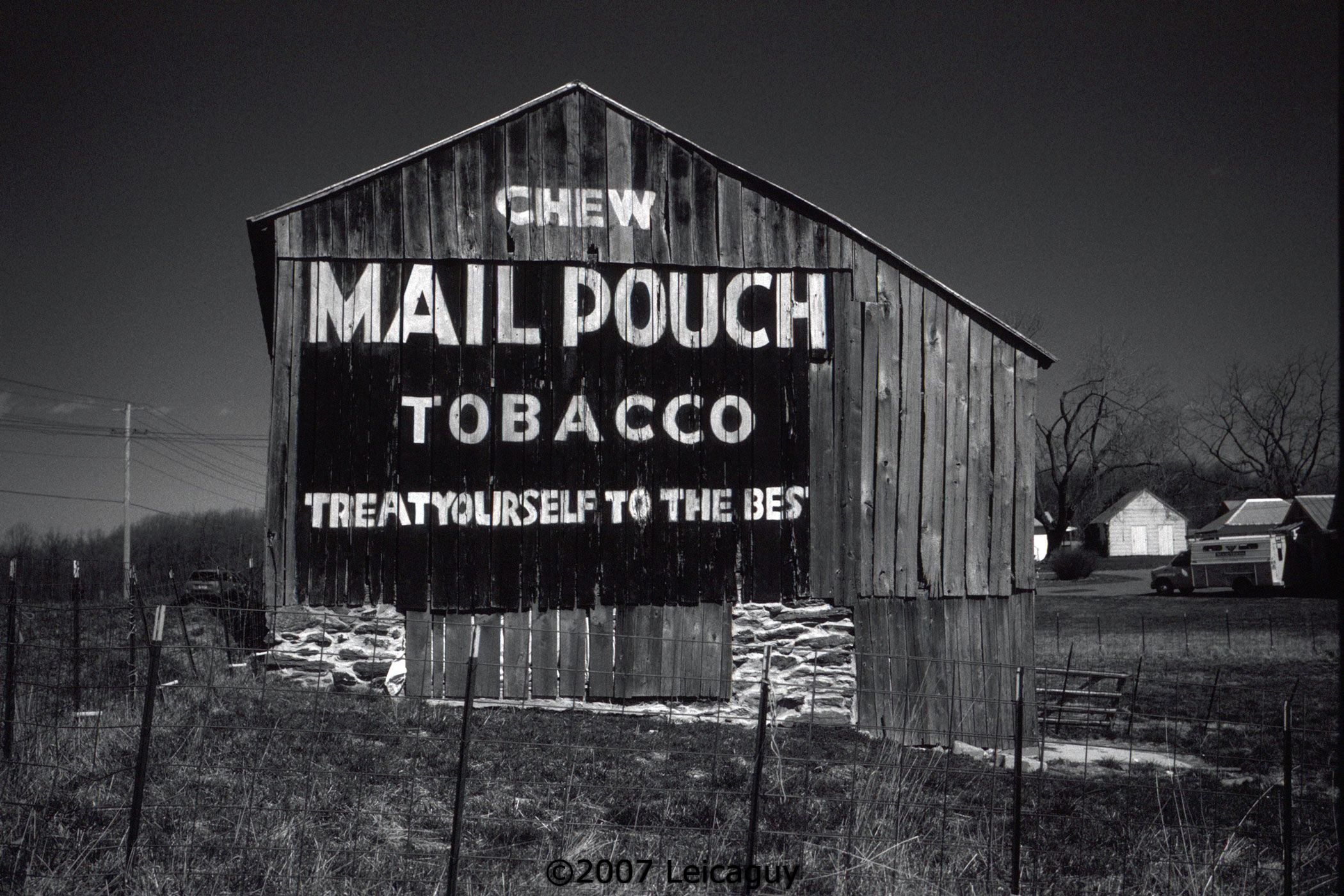 This year, I decided to try sending dr5 a roll of Kodak High Speed Infrared (HIE) and Kodak Plus-X 125. I just got them back and this year I did a much better job as a photographer and dr5 did a fantastic job processing this film. The first set of images is from the roll of HIE. I went back to Morgan Station Road in Woodbine and revisited the railroad tracks a house and barn along the road. The roll of Plus-X contains images of the gazebo in my parent's back yard, a small church, my niece, Nilsa, and my Mom.
I am generally very pleased with the quality of dr5's work with both the slides and the scans and with their prices and turn around time. It is not expensive even with shipping the cost for the slides and high resolution CD are only a few dollars more than taking a roll to a good camera store and getting prints and a CD. If you shoot film you should try dr5 labs. Now I just have to make it a habit to send dr5 more film more often.
For more about my experiences with dr5, please see my posts "sfx", "hatteras in black and white", "tech pan" and "tri-x".
Leica MP
Leica 35mm Summicron ASPH
Kodak HIE (dr5 dev1)
Morgan Station Road Railroad crossing
Leica MP
Leica 24mm Elmarit ASPH
Kodak HIE (dr5 dev1)
Bed and Breakfast along Morgan Station Road
Leica MP
Leica 24mm Elmarit ASPH
Kodak HIE (dr5 dev1)
Old barn along Morgan Station Road
Leica MP
Leica 24mm Elmarit ASPH
Kodak HIE (dr5 dev1)
Morgan Road Church
Leica MP
Leica 24mm Elmarit ASPH
Kodak HIE (dr5 dev1)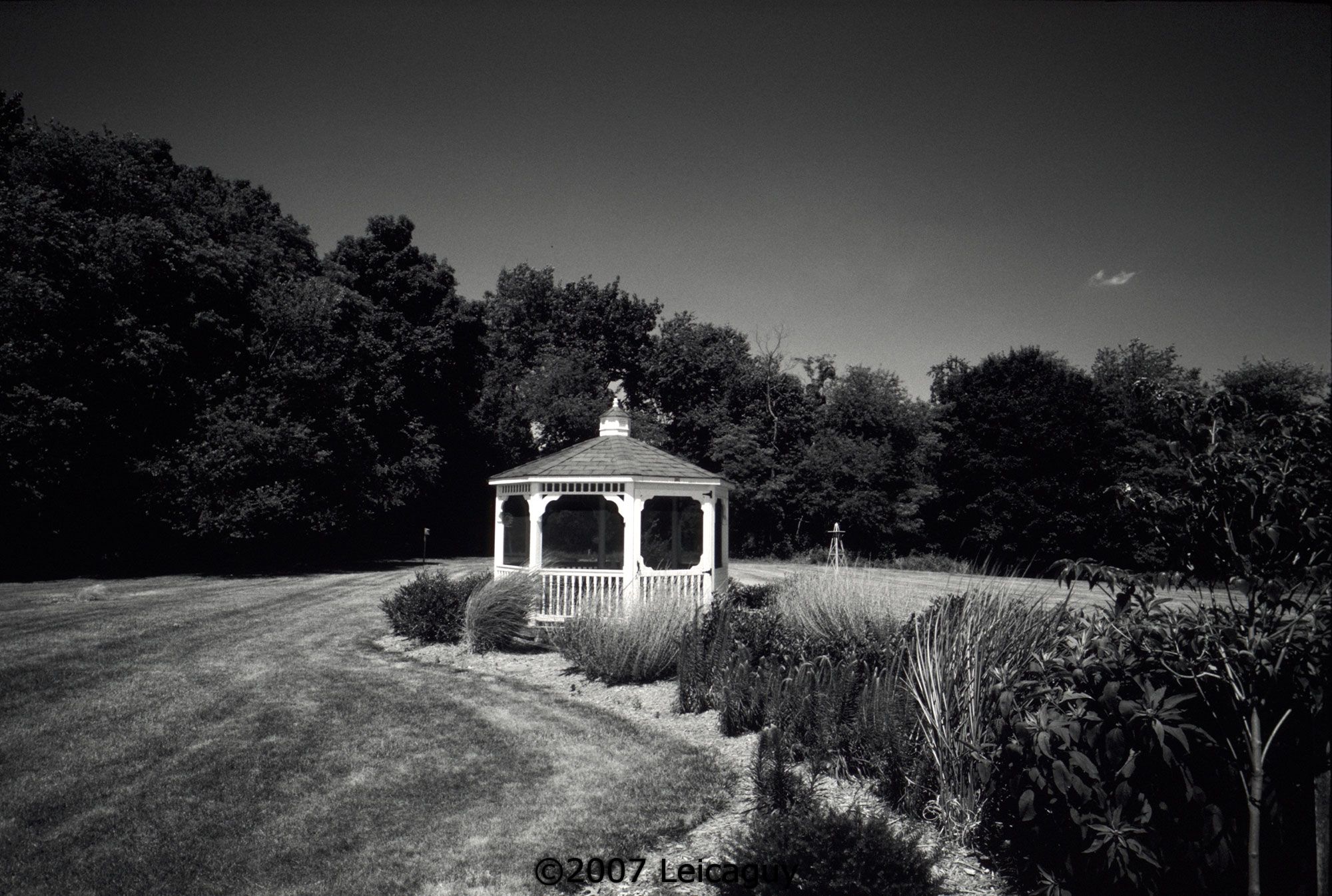 Gazebo in my parent's back yard
Leica MP
Leica 24mm Elmarit ASPH
Kodak Plus-X 125 (dr5 dev1)
Methodist Church on Gillis Falls Road
Leica MP
Leica 35mm Summicron ASPH
Kodak Plus-X 125 (dr5 dev1)
Charlotte on a swing
Leica MP
Leica 35mm Summicron ASPH
Kodak Plus-X 125 (dr5 dev1)
Fixing a hurt
Leica MP
Leica 35mm Summicron ASPH
Kodak Plus-X 125 (dr5 dev1)